Femmes Pionnieres & SOS Kannerduerf Lëtzebuerg participate in the "International Woman's Day 2022" in Dubai
[:en]The « International Woman's Day », on the 8th of March 2022, followed the theme of « 
Equality today for a sustainable future
 » and aimed to showcase and recognize the valuable contributions of women and girls all over the globe who help transform the world and bring forth solutions to adapt to the climate change, diminish its negative impact and help create a better future for all.
At the World Expo 2020 in Dubai, this day was also be celebrated in the various country pavilions with numerous events and activities, including at the Luxembourg pavilion.
The « Femmes Pionnières Lëtzebuerg »(Pioneer Women of Luxembourg (femmespionnieres.lu), an association whose goal is to make exhibitions and presentations about inspiring and deserving pioneering women of Luxembourg in all lines of life, in order to highlight their extraordinary feats and accomplishments, celebrated the « International Woman's Day » in Dubai at the Grand-Duchy of Luxembourg pavilion.
The association showcased for the very first time the following documentary :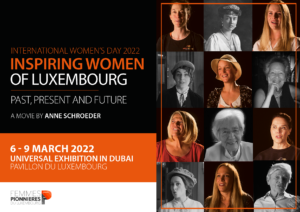 SOS Kannerduerf had the possibility, thanks to the generous invitation of the « Pioneering Women » organization and their president Ms. Joëlle Letsch, to participate in the launch of this documentary at World Expo 2020 Dubai.
This was a unique opportunity for 3 young women, thanks to SOS Kannerduerf Lëtzebuerg, to be recognized for their amazing journeys and to help them find further inspiration throughout the journeys and testimonies of the women presented in this documentary.
By their presence and participation at this amazing event, these 3 young inspiring women will represent all the young girls and women that are creating their personal path with courage, perseverance, and determination despite the numerous obstacles that they had to deal with growing up. They will carry with them a message of hope, support and resilience to thousands of girls and women in our country.
With this documentary, the association aims to:
Tell the story of our country
Present the national DNA through these extraordinary women
Highlight the accomplishments of famous women of the past, present, and future
To showcase and appreciate their journeys and message
Emphasize and bring to light their contributions to Luxembourgish society and its development
Be a source of inspiration and vision for future generations.
This documentary illustrates women that:
Had an extraordinary journey and shine brightest through their actions and convictions
Left a significant footprint in their time
Innovate and pioneer
Inspire future generations.
Link with the vision of SOS Kannerduerf Lëtzebuerg
SOS Kannerduerf Lëtzebuerg adheres to the vision that each child has the right to grow and develop in a steady, respectful, and encouraging family environment. This environment must nurture and foster well-being and help each child flourish in life according to their chosen path and values.
SOS Kannerduerf Lëtzebuerg 's 2030 agenda and commitment in favor of the UN sustainability Goals established in 2015
The activities of SOS Kannerduerf Lëtzebuerg follow their main objective of contributing to help set up the necessary conditions to allow each child to grow and develop in a safe, stable and healthy environment. Analyzing these activities while maintaining a focus on Sustainability becomes a necessity because having a sustainable impact means committing to the future and wellbeing of all children, especially those close to us.
In 2020, SOS Kannerduerf Lëtzebuerg established a UN agenda 2030 focused on 7 Sustainability Goals. Their leading spokespeople are focused on a new common objective, to increase the impact on children through targeted actions.
Goals No 5 « gender equality » and 10 « reduced inequalities » express the desire to fight and work for a world where men and women can build their life and flourish with equal opportunities, regardless of life circumstances or culture.
SOS Kannerduerf Lëtzebuerg will also make sure that the rights of each individual are respected, as well as their values and individuality. With the help of our partners and investors, SOS Kannerduerf regularly undertakes actions to encourage young girls and boys to find their path and maximize their potential in all aspects of life.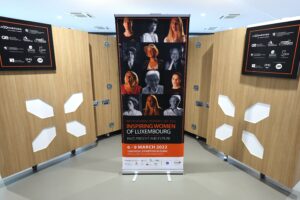 Details of the Project
Thanks to the support of several sponsors, the delegation of 3 young women aged between 18-20 cared for by SOS Kannerduerf participated in the official program in Dubai on March 8th, 2022.
To accompany and support these young women, Ms. Josiane EIPPERS, President of Fondation Lëtzebuerger Kannerduerf, Ms. Cynthia CONZEMIUS, Director of sponsor and partner relations, and Ms. Alexandra HELMINGER, Deputy Director of Education, were also present.
Source : Femmes Pionnières Luxembourg ; SOS Kannerduerf Luxembourg
---