Meet the Luxembourg Pavilion team in Dubai: Pauline Weis
Coming together is a beginning; keeping together is progress; working together is success."
We're excited to introduce you to the people working at Expo 2020 Dubai. During 6 unforgettable months, they'll assure that the message of the Luxembourg Pavilion resonates in all its vibrancy.
Today, you'll meet Pauline Weis, in charge of Media & Communication.
1. What is your name and what do you do at the Luxembourg Pavilion?
My name is Pauline Weis and I am in charge of Media and Communication at the Luxembourg Pavilion.
2. What motivated you to work at the Luxembourg Pavilion?
Many things! Foremost, I was looking to be part of and contribute to a larger project. After working "solo" and remotely for some time, I was looking forward to working in a team again.
Then, I am naturally attracted by challenges, and working at Expo 2020 Dubai seemed the perfect opportunity to grow personally and professionally.
I am also genuinely convinced of Luxembourg's benefits and the opportunities it holds for people, businesses, and international organizations. Contributing to put Luxembourg's name on the map, is therefore a huge honor…and pleasure!
3. How does a day at the Luxembourg Pavilion look like?
Tricky question! So far, no day has been the same.
My work involves social media content creation and strategy, website management, newsletter creation, press relations, writing, occasional photography and some graphic design. Therefore, …there is always something to do!
I find it also the ideal mix between office work and interacting with people.
4. What is your favorite aspect of working for the Luxembourg Pavilion and for Expo 2020 Dubai?
Definitely the people! I am always happy to welcome international media at the Luxembourg Pavilion. They are our guests and I want them to feel at ease and enjoy their visit to the Pavilion.
I also really enjoy creating events for the press and media. Not only do they showcase Luxembourg's traditions and values in a fun and educational way, but they also create content that helps to spread the word about the Luxembourg Pavilion. My favorite one is probably when a handful of local TV presenters prepared Boxemaennercher with Chef Kim.
5. What is your favorite part of the Luxembourg Pavilion?
Again, the people….and the restaurant! 😊
Chef Kim Kevin de Dood is always cooking something tasty, and I usually can't wait to try and give my (unsolicited) feedback. 😊
The Luxembourg Pavilion is very fortunate to count of a very diverse and energetic team. From the hosts and the EHTL students to the security guards and the office team… everybody brings in their very own contribution to the Luxembourg Pavilion. It's easy to thrive in such an environment.
6. What is the most important lesson you have learned during your time working for the Luxembourg Pavilion so far?
No (wo)man is an island. It all comes down to the team you work with and the networks you knit.
Another lesson learned is that the nuances of communication can be very subtle.
Living in Dubai has also changed the preconceived image I had of the city. I was surprised to discover that the UAE are a paradise for outdoor lovers and I'm very glad to have a small but reliable circle of local friends that make me feel at home in this city.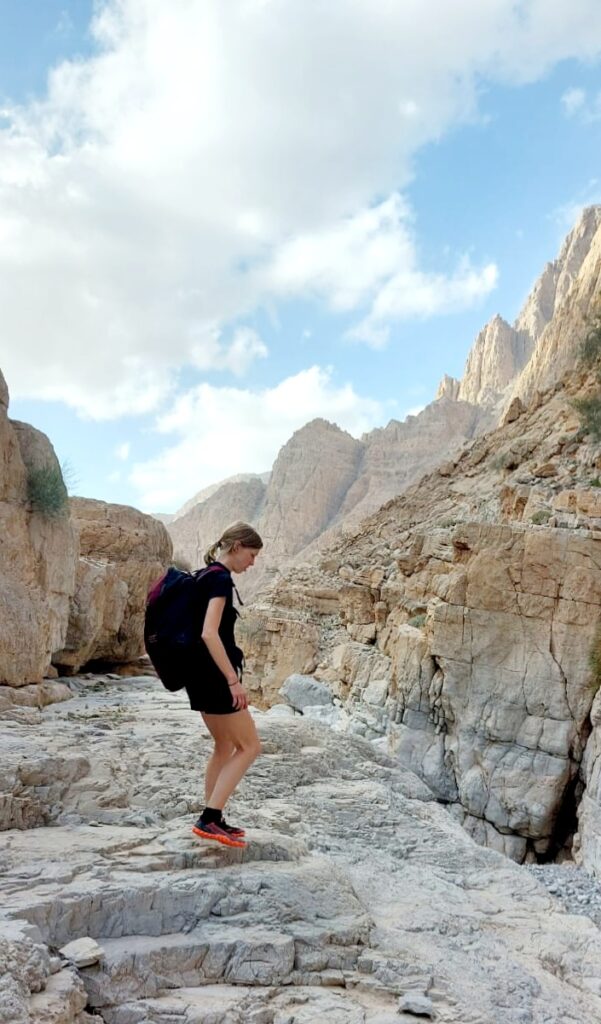 7. Any special events you're particularly looking forward to?
I was really looking forward to the Luxembourg National Day which turned out to be a day during which the entire team managed to showcase Luxembourg's resourcefulness.
I can't wait for sports' week either and of course, the multiple food events that are still coming up.
8. What can EXPO 2020 DUBAI do for our future?
Expo 2020 shows us that it's allowed to dream BIG and that you can make things happen against all odds.
During the 6 months of Expo, geographical borders became less important as the world gathered in one place to work together on projects and initiatives that create a better tomorrow.
If visitors and workers can preserve the feeling that we're all part of a large community, then, in my opinion, Expo has already done a lot for our future.
---