Meet the Luxembourg Pavilion team in Dubai: Sheilla Inao
Coming together is a beginning; keeping together is progress; working together is success."
We're excited to introduce you to the people working at Expo 2020 Dubai. During 6 unforgettable months, they'll assure that the message of the Luxembourg Pavilion resonates in all its vibrancy.
Today, you'll meet Sheilla Inao, Food & Beverage Manager.
What is your name and what do you do at the Luxembourg Pavilion?
Hello! I'm Sheilla Inao, I am the Food & Beverage Manager at Schengen Lounge – Luxembourg Pavilion Restaurant. My main responsibility is to manage all F&B and day-to-day operations within the Luxembourgish guidelines and highest standards.
What motivated you to work at the Luxembourg Pavilion?
Working at the Luxembourg Pavilion is both enjoyable and challenging. There's never a dull moment, and every day is different. I'm glad to have an opportunity to meet diverse people and gain professional skills that I will carry with me in my future ventures.
Being a part of a customer's vacation or spare time, serving them food that comforts them, brings me pride and satisfaction. While working here, I've become more tolerant, patient, and better at multitasking and customer service.
How does a day at the Luxembourg Pavilion look like?
Each day is interesting because we get to see visitors from all parts of the world. Some of our restaurant's visitors were the Crown Prince of Luxembourg, the Ambassador of Luxembourg to UAE, ministers, directors of different Pavilions and Expos, influencers, vloggers, and people from the media.
You'll never know who's coming to visit!
What is your favorite aspect of working for the Luxembourg Pavilion and for Expo 2020 Dubai?
Foreigners account for nearly half of Luxembourg's population. That is also the case here in the Luxembourg Pavilion, where customers and the workforce are racially diverse.
My favorite aspect of working at the Luxembourg Pavilion is that we are one of the few pavilions at Expo 2020 Dubai with a Michelin-starred chef and the only pavilion with students working with us. Students from École d'Hôtellerie et de Tourisme du Luxembourg are part of Chef Kim Kevin de Dood's team.
Another part that I like is the opportunity to taste cuisine from all over the world – be it recipes from award-winning chefs, innovative dining concepts, sustainable dining, haute cuisine, or street food. Imagine being in one place, but you get to taste dishes from every corner of the globe. Truly amazing!
What is your favorite part of the Luxembourg Pavilion?
My favorite part aside from the infamous Luxembourg Slide is, of course, the Schengen Lounge!
Luxembourg is a country not known for food but, here in Expo 2020 Dubai, many of our guests are telling us that they heard Luxembourg Restaurant offers the best food in the Expo – thanks to our Michelin starred chef, Kim Kevin de Dood, and his innovative fusion cuisine!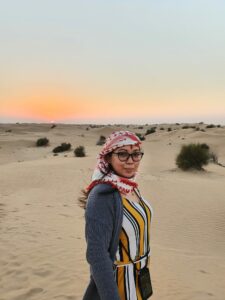 What is the most important lesson you have learned during your time working for the Luxembourg Pavilion so far?
As our executive chef likes to say, teamwork makes the dream work. I learned how important it is to work in a team and come up with efficient and effective methods to run our day-to-day operations and solve issues.
I learned that good teamwork increases morale and productivity, which ultimately leads to higher profit and a good reputation for the restaurant.
I also learned how to make quick decisions, work well with others, and stay calm even in demanding situations. At the end of the day, even if some days are particularly bad or stressful, I learned how to pick myself back up knowing that I became a better person because of the skills I acquired from working in a restaurant.
Any special events you're particularly looking forward to?
I'm looking forward to the upcoming re-invent Kniddelen event with the few international chefs coming. I think it will be interesting and fun! 😊
What can EXPO 2020 DUBAI do for our future?
Expo 2020 Dubai celebrates human brilliance, creativity, and achievement. Trade shows such as this help entrepreneurs promote their business and meet potential partners.
This event can also inspire other people to set up their businesses and introduce visitors to different cultures formerly unfamiliar. I think all of these are a boon to the food and beverage industry and encourage trade and tourism, which, in the long run, benefits a country's economy.
---