ReCreate – The interactive exhibition by University of Luxembourg
ReCreate: Shapes from the Collective Imagination – The Luxembourg Pavilion at Expo 2020 Dubai partners with the University of Luxembourg to present an interactive and awe-inspiring new visual display from February 23 to March 4 2022.
The two-part exhibition invites guests to ReShape and ReTrace a series of fascinating mathematical designs and puzzles
This spring, the Luxembourg Pavilion at Expo 2020 Dubai is unveiling an awe-inspiring visual display created by professors of the University of Luxembourg. ReCreate: Shapes from the Collective Imagination, is a collaborative project centered around two different and immersive pillars: ReShape and ReTrace.
Available for pavilion guests to enjoy until Friday, March 4, ReShape encourages visitors to have a go at making three contemporary works of art based around geometric shapes, curves, and pixel art. Created using simple electronic tablets, all of the imaginative works produced will be incorporated into the overall exhibition.
Fans of art and culture will also be interested to know that ReShape is directly linked to the "Sound of Data" project, part of Esch Alzette's programm, the second largest town in Luxembourg, as the official European Capital of Culture for 2022. CroArt aims to illustrate and explore harmony in abstract art by using collective human intelligence to create graphic compositions of crowd-sourced data and art and ReShape at Expo 2020 Dubai is delighted to form a part of it.
Meanwhile, ReTrace is based around Quadratis puzzles and the discoveries of the Exploratis station at the Luxembourg Science Center.
Normally, puzzles are considered to be nothing more than a series of brain teasers, but in ReTrace participants are free to explore whole networks of puzzle configurations and leave colored pathways behind them.
Like with ReShape, this results in each guest creating their own unique work of art. Spreading the fun even further, the dedicated Quadratis app means that the experience can also be downloaded and shared with families and friends.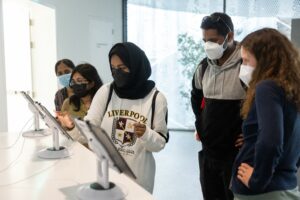 The ReCreate exhibit was created by Hugo Parlier and Bruno Teheux from the University of Luxembourg and with the support of the Luxembourg National Research Fund.
Leaders in their respective fields, Hugo is a professor of mathematics with a passion for the study of surfaces and curves on surfaces, while Bruno is a Research Scientist from the Department of Mathematics who is particularly interested in algebraic logic.
Hugo Parlier, co-curator of ReCreate, said: "I'm so excited to see our ideas come to life at Expo 2020 Dubai. We couldn't have asked for a more exciting or dynamic venue, and I can't wait to see what beautiful digital works are assembled by our thousands of international visitors. I want to thank the Luxembourg Pavilion for letting us use their amazing space, and to all the great minds from the University of Luxembourg and beyond who helped us make our dreams our reality.
ReShape was produced with the help of developer TenTwentyFour and consultancy Piccolino Design, while ReTrace was entirely imagined and realised by our talented "Quadratis team", featuring Paul Turner. Mario Gutiérrez, Reyna Juárez and myself. ReCreate is a truly eye-opening experience and I hope as many people as possible will come and try it out for themselves in Dubai."
---